WHAT DOES "POST-ACUTE" MEAN?


Care that may be required outside of the Hospital (Acute Care).
Pioneer provides comprehensive care solutions for our patients before and after discharge. Currently, we are servicing over 20 Post-Acute facilities in West and Central Florida.
Our post-acute team holds itself to a high standard when it comes to communication. We pride ourselves on responsiveness and share a common goal with facilities in ensuring the patient receives timely, quality care. Whether it be specialists, nursing staff, administration, or family members, we believe in thorough and effective exchange of information for all involved in the patient's plan of care.
Pioneer Medical Group brings state of the art evidence based medicine to our patients. Our success is our unwavering commitment to deliver quality medical care, innovation processes, and unparalleled commitment to patient experience. Pioneer is founded on Three Pillars.
Teamwork
Compassion
Patient-Centric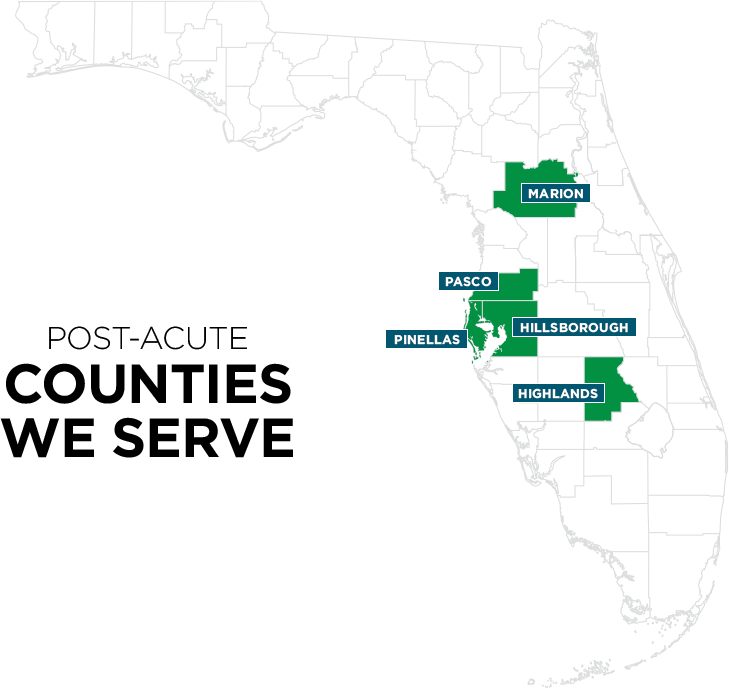 Skilled Nursing & Rehabilitation
Pioneer Medical Group provides compassionate care to our Skilled Nursing facilities. Our mission is to maximize patient recovery and allow patients to focus on living their best lives.
Pioneer is committed to patients with medically complex illnesses that require extended care. Our mission is to foster a comforting environment with a specialized approach to care for their long-term needs.
"The physicians took their time during each visit to discuss things with me. I truly appreciate not being rushed. Thank you"
"My doctor was wonderful. He explained things to me better than the specialists."
"All the physicians helped me understand my concerns, very professional and put me at ease to accept my condition and treatment. Thank you"
"I was impressed with the quality of care and speed"
The Solution For Hospital Medicine